MD Federation Mini-Conference and Annual Meeting
 The MD Federation Mini-Conference (April 30 and May 1, 2018)  and Annual Meeting information and registration forms are as follows:
(Please send your Mini-Conference and Annual Meeting registration form responses to Registrar Marty Strombotne, not to me.)
Thanks,
Pat Farmer
Call to Federation Board____ Meeting_Mini-Convention_30April-1May2018_FINAL_paf
\
MiniConvention_2018_Registration_Form

~~~~~~~~~~~~~~~~~~~~~~~~~~~~~~~~~~~~~~~~~~~~~~~~~~~~~~~
National Conference (renamed from National Convention)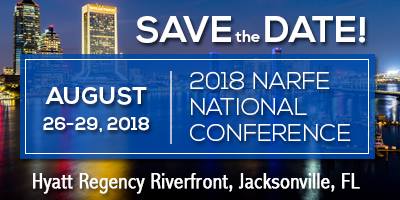 The National Conference will  be held in Jacksonville, FL from August 26-28.  Details will be forthcoming in narfe magazine and posted on this website.  Please note dates and plan accordingly.  The Conference will be held at the Hyatt Regency and the topic of the Conference will be Become Better Membership and Retention Leaders.  NARFE leaders willl deliver best pratices and leadership development, a must for any NARFE leaders engaged in Chater membership retention. 
Both National and Federation convention/conference information will be posted on this page as the information becomes available.